Fuel Cycling started with a vision to help
Monterey Bay Ride Local.
Cycling studios are a great place to get a workout. But Fuel Cycling Founder Molly Kennedy knew that there was more to cycling than what corporate cookie-cutter studios could offer.
What if there was a place that went beyond cardio and offered true community?
That's exactly how Fuel Cycling was born.
Fuel Cycling offers an inclusive, welcoming community for riders of all skill levels. There's no checklist or corporate formula.
Each of our instructors brings their unique approach to cycling into every class, leading to rides you can't get anywhere
else.
Our studio is a safe space for everyone to work out, enjoy high-energy curated playlists, and forge true friendships with
other local riders. Our instructors and members alike are ready to motivate and celebrate with anyone who walks through
our doors.
We believe that your rides should fuel your life, not drain you. We believe our role at Fuel Cycling is to help fuel you to
become the best version of yourself.
We ride together, sweat together, cry together, and get through it all together.
We are better together.
We're passionate about riding! Meet our incredible and knowledgeable instructors that will be guiding,
helping, and motivating you through your rides to make sure you have the best experience.

@mkenn5
Molly is a CEO and founder of Fuel Cycling. Riding is part of her soul, which is why she started Fuel Cycling; to create a riding community together with people she loves. When she is not craving cardio on the bike, Molly is also barre and yoga certified as well! A variety of workouts keep her busy and active to chase her students around at school. By day, Molly is a full time teacher in Monterey. She's deeply passionate about educating the future, and could always use more coffee in the mornings and more wine at night.
Molly found herself in Monterey over 10 years ago to play collegiate volleyball at CSU, Monterey Bay and getting her undergraduate degree, General Teaching Degree, and eventually a Special Education Teaching Degree.
What music will we hear in your classes?
REMIX QUEEN! I love a good beat drop and finding new remixes for old favorites. I grew up singing along to 2000s jams, and love throwing them into my rides.
Favorite Post or Pre Ride Snack:
Pre Ride, I load up on at least 20oz of water, post ride I love a big smoothie!
How do you prep for classes?
Playlisting is another full time job. Every song in my ride is hand-picked and placed in my ride for a reason. I want my playlists to take riders on a journey, so listening to music and spending time crafting just the right vibe is important.

@margarettgabrielson
Margarett is co-owner of Fuel Cycling. Margarett was born and raised in the Bay Area, and has lived on the Peninsula for 15 years. She is a mother of 5 awesome humans. She recently retired after owning and operating her family business of 11 years, and is looking forward to what comes next. Margarett fell in love with indoor cycling over 8 years ago. When she started teaching she felt she found a piece of herself she had lost a long time ago. A Black Belt in Tae Kwon do, she was raised a fighter, and stands up for others. She is an empath and loves all things that make her heart beat faster and harder.
"My bike is my instrument, and I was born to serve. Every time I pour my heart out on my bike, it makes room for more."
What is your reason for clipping in?
My bike is my instrument and I am grateful I get to play it.
What music will we hear in your classes?
A mix – I love dance, hip-hop (especially 90s), rap, EDM, reggaeton. I like to keep my riders on their toes. There's not one type of music you'll always hear in my classes. I build each ride depending on my mood and what I want riders to get out of the beat, lyrics, or mood of the song.
How do you prepare for classes?
A little red lipstick and eyeliner turns on my spicy personality. I feel empowered and ready to teach my rides. I like to get to the studio early, so I have time to get in the right mindset for class.

@stacigiovino
Staci and her husband landed here in Monterey for her husband's job 12 years ago. She is a BAD A$$ female entrepreneur who still holds an interior design credential but currently operates Carmel Food Tours and Sign Gypsies Monterey. She has a passion for fitness and started teaching barre, but quickly fell in love with/moved to cycling within a couple years. When she's not on a bike, she's probably doing strength training because falling and not getting up is a real fear. Staci is a mom/stepmom to two globetrotting adults and two obnoxious dogs, and is grateful for her wonderful husband Paul.
Reason for clipping in:
Clipping in allows me to eat like I'm 28 years old and maintain the fitness of someone much younger than most women my age. It also gives me a much healthier brain with at least an ounce more patience than I would have without the exercise.
What music will we hear in your classes?
Most of my music is SFW but there's no denying talents like Eminem and sometimes I'm just in the mood. Solid beats are important, and I look for a variety of music that can create a feeling.
What's your favorite Friday night routine?
Dinner at home and enjoying being with my husband and dogs in our very comfortable living room. Get off my lawn.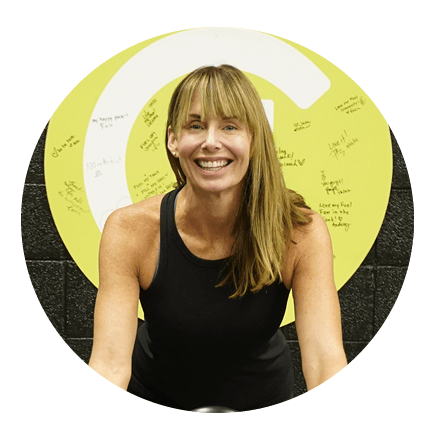 @susan_fitness831
Susan, along with her husband and 3 kids, has called the Monterey Peninsula her home for the past 12 years. She took her first spin class in LA 25 years ago when recovering from a running injury and has been clipping a few times a week since then. It was the second class I started teaching when I became a group ex instructor over 10 years ago; continuing to add various formats to her expertise as her kids grew up. When she's not teaching, you can find her playing board games with her family, hiking friends, playing pickleball, and drinking dirty martinis.
What are your favorite things to eat in and around Monterey?
– Coffee at captain stoker in Monterey
– Poke and Korean food from Marina
– Boozy Milkshakes from Sur in Carmel
– GIANT Cake from Rosine's in Downtown Monterey
Favorite cross-training or strength training
I like to lift heavy stuff
What music will we hear in your classes?
I like to mix it up with new and classic music -think Red Hot Chili Peppers, Billie Eilish, and Jay Z tied with a remix bow.

@frenchifitness
Steph was born and raised on the Peninsula. She always played sports but it wasn't until becoming a D1 athlete in college that she really got into working out and a healthy lifestyle. Cycling was her first certification, as a sophomore, and she knew it would be the first of many. She has been teaching all formats (except the "slow" stuff) for eight years. She is mom to an adorable/crazy 2-year old boy and 2 furbabies. Fitness remains a focus but now she is also becoming a school teacher so she can help impact and shape the future.

@genmillington
Our Monterey Peninsula native that came home after moving away for college to visit, met her husband and could never leave again! Gen lives at home with her husband and 2 crazy dogs. She has 2 amazing children who are off changing the world, and she now has more time for her hobbies like hiking, gardening, DIYing, or tending to one of her 50 something indoor plant babies. Along with cycling, Gen also teaches barre, TRX, and HIIT and various gyms along the Peninsula. Her goal is for you to love fitness as much as she does!
What is your favorite thing in/about the Monterey area?
All the beautiful places to hike! There is so much variety where we live here – a hike for everyone, at every level, and in all types of scenery.
What type of music will we hear in your class?
I love Hip-Hop both new and old. I like to play music that makes you smile and dance. I love a good, strong beat that every rider can find.
Friday Night Routine:
Fridays are for ALL THE CARBS! You can find me at home making pizza or pasta (or ordering from my local favorites) for my mountain biking husband. We enjoy a night in, a big meal, and a glass of wine…or two!

@carlssbarkli
Originally from Lodi, CA, Carli moved to the peninsula two years ago to pursue a career in events at Pebble Beach Resorts. Between sweating it out at the studio and leading corporate groups to the golf course, she has loved calling Monterey home and can't wait for more good times! Carli's love for cycling started in high school taking spin classes with her dad and eventually expanded to teaching cycle, strength and yoga classes. When Carli isn't at the studio, she is hanging out with friends and her two rescue dogs, Gallagher and Godiva.
What is your favorite thing in/about the Monterey area?
Monterey is one of the most peaceful places I've ever visited and lived. On a perfect day, I've stopped by The Perfect Crumb for a cold brew (the ice cubes are frozen cold brew, so no watered down drinks!) and an almond croissant and walked down to the water to listen to the waves. The day would end with a tequila flight and vegetarian tacos from La Cultura in Carmel.
What type of music will we hear in your class?
I love a good beat regardless of the genre so get ready to bump it in and out of the saddle. If we can shake our a$$ to the music, then you know it HAS to be a good song. Dance party after class anyone?
Friday Night Routine:
My Friday night routine starts with a long dog walk around the block, followed by a quick lift session at the gym. Depending on how the week went, I might grab a glass of wine and watch the latest Real Housewives episode OR make a fun tequila drink and go dancing with girls.
None of our rides could happen without our Fuel Cycling Front Desk Team. Before you even enter The Tank, this team makes sure the phones are answered, classes are scheduled, the studio is clean, and there's a friendly face to greet you when you arrive. Be sure to show your appreciation next time you visit us!